For me, this print sums up 2020 so far. I called it Follow your heart and I carved the image into lino in the first weeks of the lockdown and then made a few prints which I sent on to some of my friends. I'd set up a temporary studio in my bedroom and while I wasn't quite sure what I was going to do in my studio, I knew that this was exactly where I wanted to be. Breath in, be still and follow your heart.
The image felt like a talisman, a guide, a simple picture that I felt committed to following. I quietly promised to listen.
I'd spent the early weeks of 2020 in Cill Rialaig artist's retreat. This was a special time. I had a cottage all to myself and time…all to myself, the first time I'd had time like this since my son had been born in 2017. The cottages are perched on the edge of a cliff and right there, just outside the door, was the wild Atlantic ocean and the constantly changing Kerry skies and the unpredictable weather. It was so beautiful. And so solitary. Just what I wanted.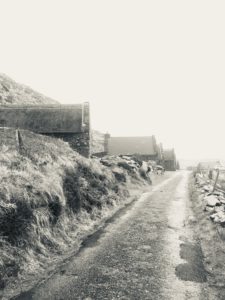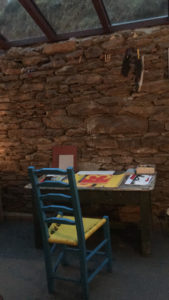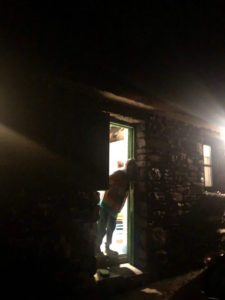 I worked hard for those two weeks on a picture book that had been brewing for almost two years: my take on the Little Red Riding Hood fairytale. This Little Red figure has popped up in so much of my work over the last few years and I wanted to complete the story I'd started. I love this fairy tale. It's inherent darkness intrigues me and I played with the idea of imagined fears and how they can grow into monsters that threaten to engulf us.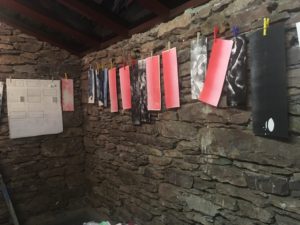 I arrived home with my dummy book complete and research done for an Irish language book I wanted to develop. The last thing I expected, like everyone else, was that our school would close it's doors for the rest of the academic year and that we'd all be sent home. It still feels hard to have retrospect on what has happened.
However, since then, it's been a very creative time. I've set up my online shop and I've been lucky enough to be able to share my work in the Maker's House in Wexford town. I'm thrilled to be showing work in the Blue Egg gallery in Wexford in December and one of my Little Red books is on it's way to the Dublin Book Art Fair in November.
I'm excited to see where my heart takes me next. Breathe in, be still and listen.